MF5000 series Gas Mass Flow Meters General description
MF5000 series mass flow meters are specially designed for small pipe flow monitoring and feature an extremely low pressure loss compared to the traditional by-pass thermal mass flow meters in this application scope. The accuracy of the meters are generally ±(1.5+0.5FS)% or better depending on the requests. The meters can work at an environment of -20 to 60°C and pressure up to 1.5 MPa. Applications include semiconductor gas process monitoring and control, hospital oxygen gas monitoring, etc.
MF5000 Series have 5 designs, with model number:MF5003/MF5006/MF5008/MF5012/MF5019.
MF5000 series Gas Mass Flow Meters Features and Applications
- Highly sensitive, measuring as low as 8 mm/sec, and as high as 65 m/sec with a single assembly
- Directly sense mass flow using thermal mass flow principle
- Proprietary MEMS sensor package design for better reliability
- Standard 12 ~ 24 Vdc power supply
- Low pressure loss forreducing energy cost
- Industrial standard Modbus protocol for easy networking and remote control

MF5000 series Gas Mass Flow Meters Mechanical Dimensions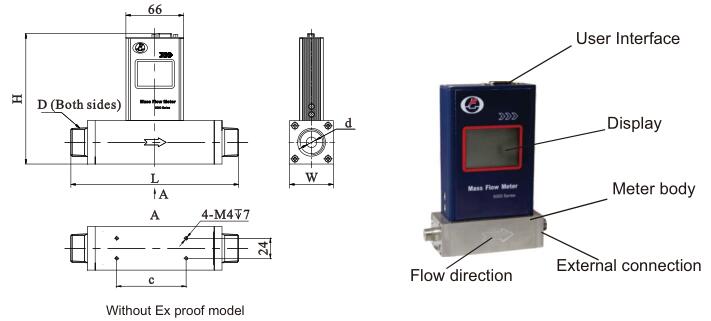 MF5000 series Gas Mass Flow Meters Specifications
Accuracy

±(1.5+0.5 FS)%

Environment

Temperature: -20 ~ +60℃;
Humidity: < 95%RH (No icing or condensation)

Flow channel

3 ~ 19 mm

Display

Flow rate and accumulated flow

Interface

4 ~ 20 mA; RS485; Pulse

Calibration

Air @ 20℃; 101.325 kPa

Protection

IP40 (Without Ex proof model); IP66 (With Ex proof model)

Ex Proof

Ex d IIC T4
Note:t
he above parameters are applicable at 20℃ and 101.325 kPa
MF5000 series Gas Mass Flow Meters Production selection